Illuminati Gods At The Olympic Games Volume 2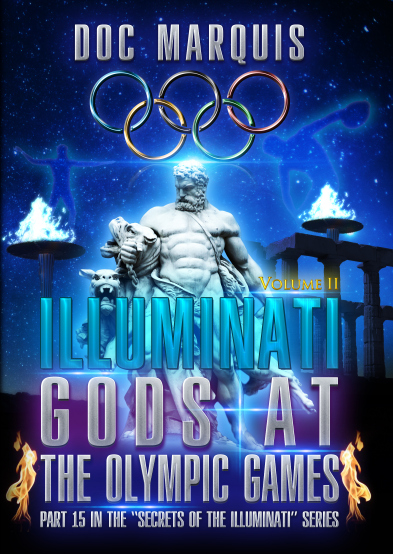 SOLD OUT!
You may obtain Doc's videos by going to www.swpm.us and clicking on the BOOKSTORE link on the homepage.
In "Illuminati gods at the Olympic Games, Vol. II", national/international speaker, radio show guest, television personality and author Doc Marquis takes us even deeper into the mysteries of the modern day Olympic Games which were revisited by the Illuminati and have been used by them to put out their secret messages of global domination and a New World Order.

Through the Olympic Games the adoration and worship of ancient gods are revised and brought back in such a way that no one could've guessed the whole of what the Illuminati had been doing right in front of us all along. And yet, we've always known that something was there, something in those Games that just didn't seem right but were accepted nevertheless. However, with his unique background as a former, 7th generation Illuminati witch Doc Marquis reveals the stories and details of the Olympic Games which the Illumaniti wants no one to know.

Beginning where he left off in Vol.1, Doc takes us from the Closing Ceremony of the 2000 Olympic Games of Sydney, Australia all the way through the Closing Ceremony of the 2012 Olympic Games of London, England. At the end Doc makes some startling predictions as to what he expects will occur during the 2016 Olympic Games of Rio de Janeiro in Brazil.

The worship of the "serpent god (Satan), Illuminati symbols, occult stories and myths, ancient pagan rituals, the revival of the ancient gods and so much more will be unveiled as you go through "Illuminati gods at the Olympics Games, Vol.2".

2 DVD set, nearly 4 hours long.